BO Eliquids
BO Eliquid Orange Soda
5.90€
Take a moment. Relax. Cool Off. Unwind with the fizzy freshness of orange soda, bringing those deliciously sweet perfumes of fresh orange with a tangy soda twist.
In stock
BO's know-how for all vaping lovers
Vaping is in our blood: as one of the earliest companies to join the vaping market, we've gleaned over the years a wealth of experience and know-how in all aspects of vape manufacturing- from device design and manufacture to the sourcing of high-grade raw materials for our e-liquids- mastering along the way the art of e-liquid blending and flavour profiling to bring to market vaping products of unrivalled quality, reliability and performance. It's this vast accumulated store of vaping knowledge that enables us to remain at the very pinnacle of the vaping industry, evidenced by our global reputation for consistently producing devices and e-liquids of superior quality and for expanding our passion for vaping around the world.
Features
Best BO Flavors in 10ml bottles
Contains 20mg/ml of Salt Nicotine
Free to use in the open system ecig of your choice
All BO's years of experience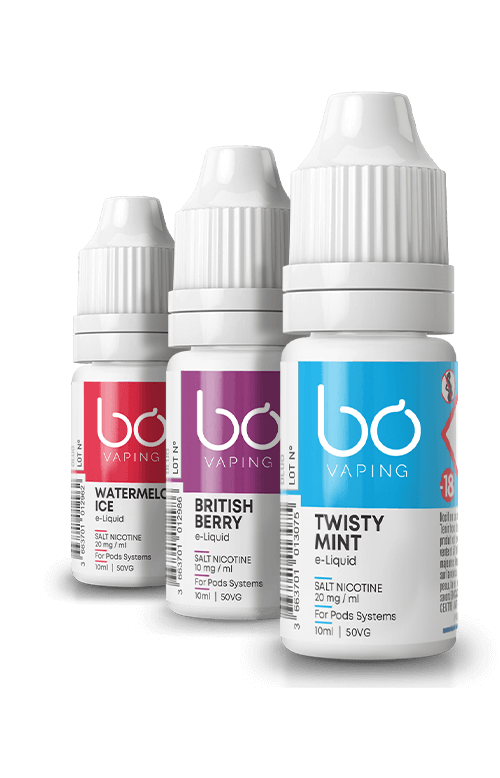 Only logged in customers who have purchased this product may leave a review.
Most appreciated flavors now in bottle format


Know-how
Years of experience leading to the acquisition of high-end French know-how guarantee BO e-liquids a result close to perfection.
Plenty of flavours
10 flavors perfectly chosen among the most appreciated to satisfy all your tastes, in all types of moods.
Freedom of use
Now available in 10ml bottles, BO Eliquids offers you the opportunity to vape your favorite flavors in the open system ecigarette of your choice
Salt nic
Nicotine salt e-liquids are known to be more effective in helping you get rid of your bad smoking habit.