BO Plus ECIG Device
Bō+ Black
29.90€
Our all-in-one package includes everything you need to begin your journey with Bō Vaping. A lightweight, smart and easy vape pen with an elegant design, plus 1 leather cover and 1 USB Type-C charger.
In stock
About Bō Plus (Bō+)
The next generation of pod mod vaping is here. The Bō Plus starter kit boasts a range of tech-forward features in a compact, easy-to-use package, while the contrast between the gloss finish coating on the vaporiser and matte, soft touch feel of the battery gives it understated chic.
The Bō Plus comes with a 27.6 inch charging cable so you can keep vaping even while the device is on charge and features a game-changing new USB-C connection, which is capable of charging your Bō Plus in 15 minutes; the 800mAh battery gives you around two days of use from a single charge. The device also features an LED indicator, which glows to show your pull strength and also while charging.
A high-quality leather cover included in the box gives the Bō Plus extra durability with a luxe twist.
Features
Lightweight and ergonomically designed
Dimensions: 3.9in x 1.0in x .5in
Long-lasting 800 mAh battery
Fast USB-C Charging
Unique disposable liquid pod mod system
Includes Leather Skin/Pouch
Puff activated
Compatible with existing Bō Caps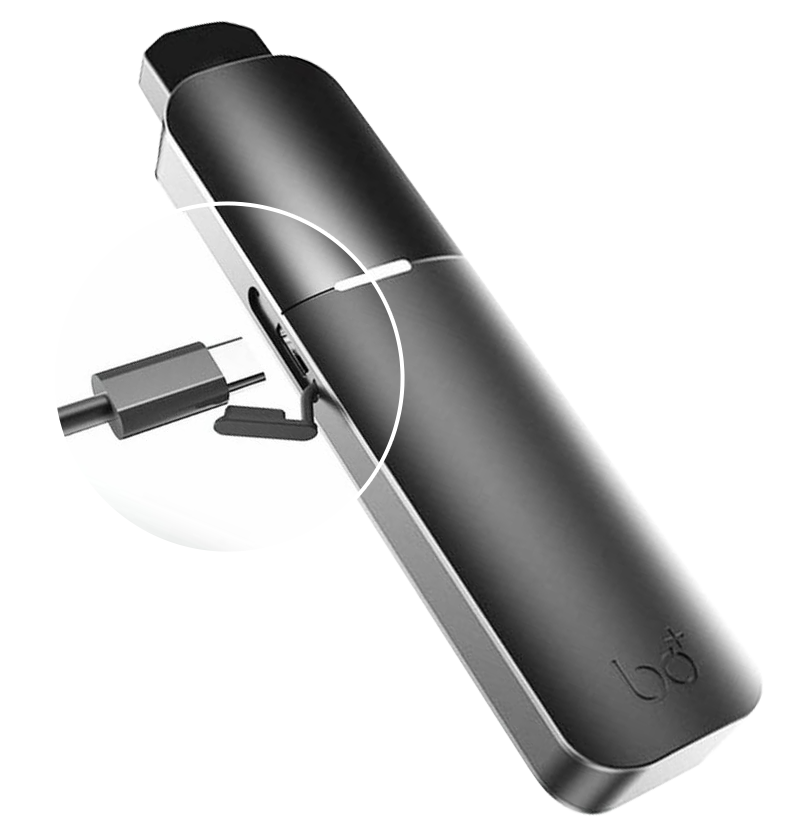 What level of nicotine should I use in my Bo Caps?
We advise to start the switch with the highest nicotine level comfortable to you, so you don't feel any lack of nicotine. Then you can gradually reduce the nicotine level of your pods to reach your goal. If you are not a smoker, you should not try nicotine.
How long will one BO Caps last?
On average a pod will last for a full day (or 380 puffs), but this may vary according to your vaping style and your chosen nicotine level. If you find yourself consuming more than usual, we recommend using pods with a higher nicotine content to satisfy your initial nicotine cravings.
How long will a fully-charged Bo device last?
Bo One: approx. One full day of vaping on a full charge (equivalent to a full pod)
Bo Plus: On a full charge, the Bo Plus can be used for 2 to 3 days (equivalent to 2 to 3 pods)
Why is the light of my BO blinking?
The LED blinks once when a BO Caps is inserted.
Each time you take a puff the LED on your device will blink to indicate battery level. The LED will change from blue (fully charged) to white (half charge) to red (battery empty)
The LED blinks continuously whilst the BO is on charge and stops blinking when charge is complete. Simply take a puff of your Bo and the LED will light up in blue, indicating a full charge.
What should I do before I use my BO for the first time?
Charge your device for at least 30 minutes with the charger included and an AC adapter (output: 5 V, 1 A max) or on your computer.
When you use a new pod for the first time, you may have to take a few hits before it works perfectly. Do not draw too much or e-liquid drops may leak into the air path.
How should I take care of my BO device?
You can use a cotton swab with rubbing alcohol to clean the metal contacts. The other parts of your device can be cleaned with a dry cloth
Do not charge your BO in temperatures below 0°C or above 40°C.
Can't find the answer to your question?
Contact us